Men's Clothing for the 2007 Heritage Tour
It is a tradition for all the Hosts and Hostesses to wear period attire during the Pilgrimage. Again this year, we want to have all of the men working in the Petry - Honan home to be in period attire.

Don't worry. That does not mean that you have to go out and make a major investment in period clothing. With a minimum of effort you can easily assemble an outfit from items you should be able to find at home.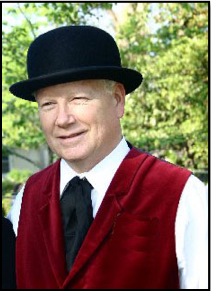 Pierce Hodnette in his period outfit


Men's Basic Outfit: A men's basic outfit is achieved by wearing:
• Dark Pants
• White Dress Shirt with non-button down collar (French cuffs with appropriate cuff links are even better). Some people wear tuxedo shirts.
• Black Ribbon Tie or Black Bow Tie (The Honans have ribbon ties and bow ties available to loan if you do not have one.)
• Black or Brown lace up Shoes. No loafers.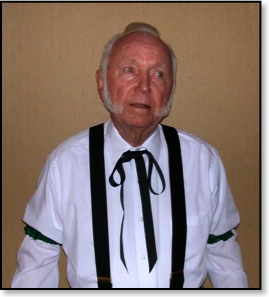 Ed Bass in his basic men's outfit.


Accessories: Accessories are what really set off your period outfit and they are easy to add. Some suggested items are:
• Suspenders: Add a pair of 1-1/2" wide solid color suspenders if you can find them. The Honan's have a few pair available for loan if you cannot find a pair.
• Garters: As period shirts only came in one sleeve length, garters held them up while providing the finishing touch in men's accessories. They make a nice addition. The Honans have garters to loan if you need them.
• Watch & Chain: If you have your grandfather's gold watch and chain, dig it out of the safety deposit box and wear it.
• Cane: A men's old fashioned walking cane is also a nice addition if you have one.
• Hats: If you are working outside as the greeter, a top hat would really "top off" your outfit. However, please remember that gentlemen never work hats inside.


Coats: At your option, you can wear a black or grey suit coat and vest or even better a frock coat if you can find one. Blazers or sports coats are not appropriate. Most men worked without coats last year. The Honan's have four frock coats to loan, first come – first serve. Contact Terry to try on and reserve a frock coat.

Military Uniforms: Of course, if you have a Revolutionary War, Mexican-American War, War Between the States, or Spanish-American War soldier's uniform, you are more than welcome to wear it.

Period Clothing Suppliers: If you want to buy some authentic period clothing items, the following companies have them:

Mercury Supply Company
101 Lee Street
Livingston, TX 77351
936-327-3707
http://mercurysutler.com

C&C Sutlery
2790 East Black Canyon Highway
Emmett, Idaho 83617
208- 398-7279
http://www.ccsutlery.com


Fall Creek Sutlery
P.O. Box 92
Whitestown, IN 46075
765-482-1861
http://www.fcsutler.com


J. D Jarnigan & Co.
103 Franklin Street
Corinth, MS 38834-186
662 - 287-4977
http://www.jarnaginco.com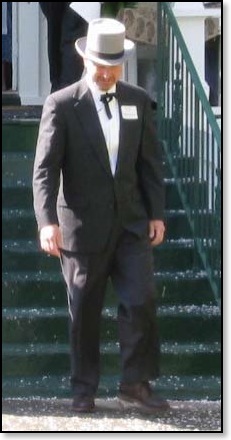 Ed Garrison in a dark suite, ribbon tie & top hat.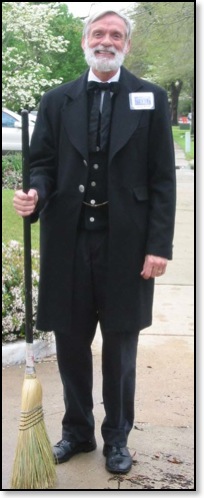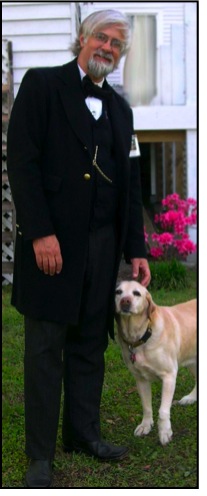 Glynn Kasper and Terry Honan in their frock coats, vests, ties and pocket watches.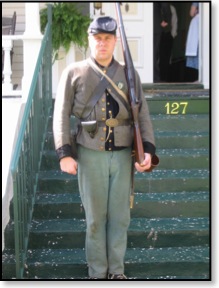 Rob Hyde guarding 127 Cherry Street.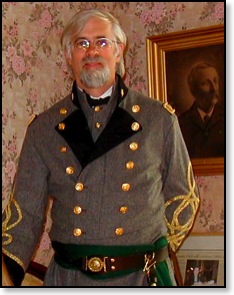 Terry, in an exact replica of his Gr-Gr-Grandfather's CSA uniform.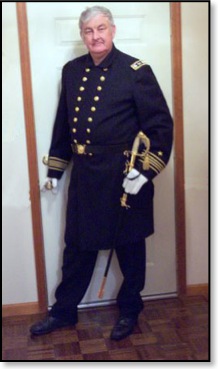 Jan Spitzer in his circa 1870 U.S. Navy uniform.