Ladies Clothing for the 2007 Heritage Tour
We want to have all of the Hosts and Hostesses working in the Petry - Honan home during the 2007 pilgrimage to be in period attire.

Don't worry. That does not mean that you have to go out and make a major investment in period clothing. With a minimum of effort you can easily assemble an outfit. Ladies period clothing can be found from several sources:

•
Your Closet:
Check your own closet. With a little imagination you may find that you already have just what it takes to assemble a period outfit.

•
Prior Hostesses:
Borrow an outfit from a prior hostess. This is the forty-second Eufaula Pilgrimage. Lots of ladies have made period outfits during these past forty-one years. Call some of the ladies that have worked as hostesses at past pilgrimages. Most are glad to loan their outfits if they have them.

•
Borrow an outfit from Anmarie Honan.
Anmarie and Terry Honan have worked hard to assemble a collection of period attire for the hosts and hostesses who work in their home to share. They are available to borrow on a first come – first serve basis. The collection consists of nine dresses and five hoops skirts with hoops and sashes. Ladies who borrow hoop skirts and sashes will need to wear their own white blouses. The skirts can be worn with slips if you do not want to deal with wearing a hoop. The hoop skirts are various lengths and have elastic waists which fit sizes 26" to 44". Contact Anmarie at (334) 687-2615 to arrange a time to look at and try on her outfits.

•
Rent:
Rent an outfit. (See the write up below for rental sources.)

•
Make:
Make or have an outfit made. There are a number of people in Eufaula that can make you an outfit if you want one.

•
Goodwill:
Buy an outfit at Goodwill. All the Goodwill stores in the surrounding area send any period attire that they receive to the Eufaula Goodwill store. If you can find what you are looking for at Goodwill, the price is hard to beat. Don't check just once. They get new stuff in everyday.

•
eBay:
Buy an outfit on eBay. There are always lots of period outfits for sale on eBay.

•
Ole Tyme Designs:
Buy an outfit from Barbara Miller at Ole Tyme Designs. She is the best and cheapest source we have found for custom made outfits. (See the write up on Ole Tyme Designs below.)

•
Google:
There are a number of other sources on the internet that sell period clothing.
A Google search
yields more sources than you can count.

•
Other suppliers:
Several other suppliers of period clothing and accessories are listed below.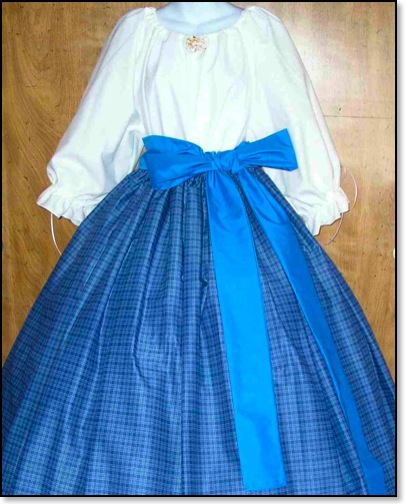 It is relatively easy to assemble a period outfit. A full skirt of either a solid color or a print or calico is appropriate. Add a sash and a white blouse and you are ready to go. You can wear a hoop of several slips to make the skirt full.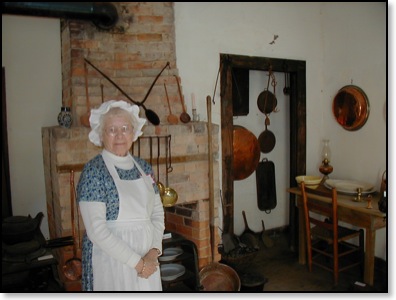 If you are going to be working in the "Old Kitchen" a long plain cotton dress in a calico cloth with a white apron is all you need. Anmarie even has the apron and hat shown in the photo above to loan you.

Accessories:
Accessories are what really set off your period outfit and they are easy to add. Some suggested items are:
• Shawl
• Gloves
• Purse
• Jewelry: a gold pin or piece of costume jewelry. Where is grandmother's broach?
• Parasol
• Fan


Rental Sources:
If you cannot find a costume, pilgrimage attire can be rented and shared with other volunteers to defer costs. Rentals are available at several costume shops in Columbus and Montgomery. Ladies costumes are available for rent in Eufaula from:
• Shorter Mansion (334) 687-3793
• Betty Mildrum (334) 687-9996

Other suppliers:
If you want to buy some authentic period clothing items, the following companies also have them:

Mercury Supply Company
101 Lee Street
Livingston, TX 77351
936-327-3707
http://mercurysutler.com


C&C Sutlery
2790 East Black Canyon Highway
Emmett, Idaho 83617
208- 398-7279
http://www.ccsutlery.com

Fall Creek Sutlery
P.O. Box 92
Whitestown, IN 46075
765-482-1861
http://www.fcsutler.com


J. D Jarnigan & Co.
103 Franklin Street
Corinth, MS 38834-186
662 - 287-4977
http://www.jarnaginco.com

Ole Tyme Designs:
The most reasonably priced source we have found for ladies period attire is Barbara Miller's Ole Tyme Designs (724) -206-0835.
Email: oletymedesigns@comcast.net.
Her web site is: http://www.oletymedesigns.com/


These are some of Barbara's items: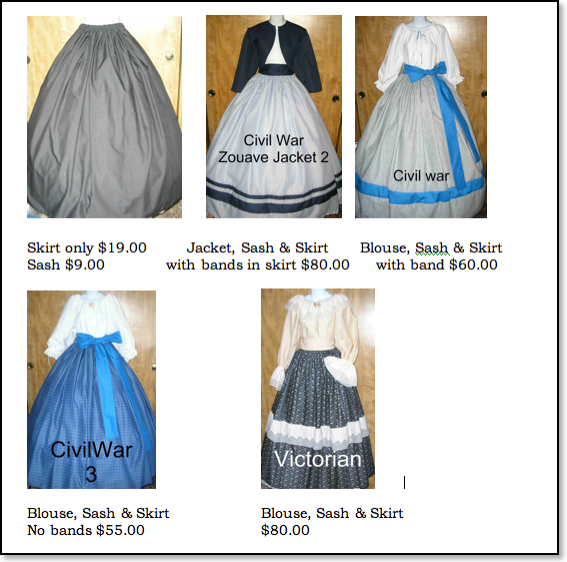 All items are custom made in your size and are available in a variety of colors and patterns. Contact Barbara and she will send you photos of the material that she has available.


Hoops:
It can be a little cumbersome to maneuver in a hoop skirt. For that reason some people choose to wear several slips in lieu of a hoop to make their skirt stand out. However, wearing a real hoop with a skirt does give a very special effect to an outfit. The effect is spectacular!

Anmarie Honan has six hoops that she will loan.

If you want to buy your very own hoop, the best source we have found is Angel's Bridal Shop on eBay. The web site address is: http://stores.ebay.com/ANGELS-BRIDAL-SHOP.
They sell an adjustable 4-hoop cotton crinoline petticoat slip for $14.95 + $9.95 shipping by priority mail. Shipping for additional hoops is $5.00/each.

The hoops are adjustable and fit waist sizes from 22" to 42". The circumference is 135" and is reducible. The length is 40" and the actual height from the floor is 36".